Beechworth's 'Drive Back in Time'
5th - 6th May 2012
The annual Beechworth Drive Back in Time includes a static display of cars, motorcycles, engines and motors more than 25 years old. Each Sunday of the Drive Back in Time weekend sees hundreds of vehicles line the Beechworth streets outside of the Beechworth Historic Precinct. It is a stunning display of polished chrome and proud owners. For owners there is a tour around the district which takes in various vantage points with BBQ lunch. This annual event offers Vintage, Veteran, Classic and Modified Car and Motorbike owners the opportunity to meet local residents and and fellow motoring enthusiasts for two days of motoring fun.
Presented by The Beechworth Old Cranks Motor Club Inc. No need to pre register for any activity.
For accommodation in Beechworth www.beechworth.com.au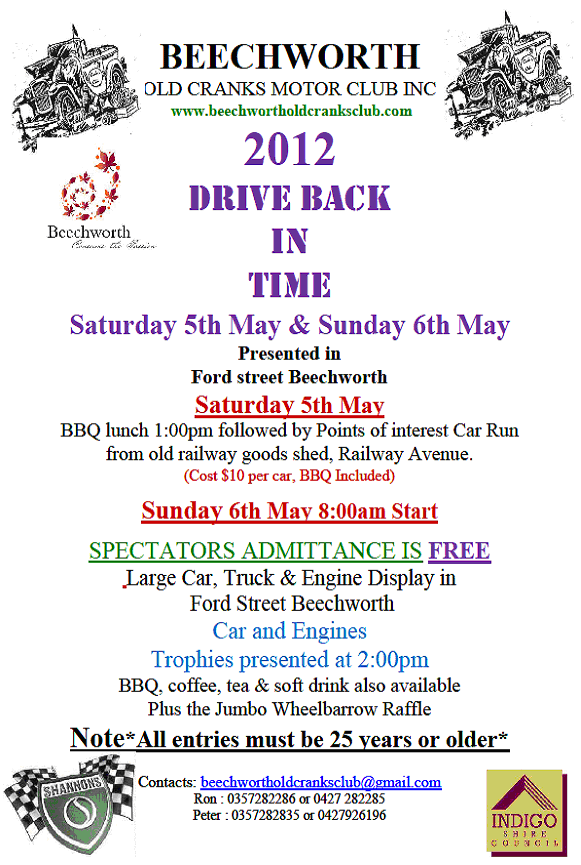 Select to view / download entry form
Let's Go Cruisin' will be making an 'End of Season' cruise to Drive Back in Time at Beechworth, why not check it out and join us.
Photos taken by Graeme Hutson at Beechworth 2007